Plastic hose 120mm (4,72") PROTAPE PUR 301 AS L=5m
SKU:
VSP120PUR301L5m
Brand:
NORRES
Unit:
pcs
Stock:
Töötemperatuur: -40..+90 °C, lühiajaliselt 125 °C
Seinapaksus 0,4mm.
Omadused: Antistaatiline kulumiskindel polüuretaanvoolik terasspiraaliga. Sisepind on poolsile, välispind gofreeritud. Väga kerge ja painduv, mikroobikindel ning tuld tõkestav. Hea vastupidavusega õlidele, kütustele ja kemikaalidele. Pakendi kokkusurutavus 3:1.
Kasutusala: Gaaside, aurude, tolmu, pulbrite, kiudude imemine ja edastus ventilatsioonisüsteemides.
Pakend 1tk=5m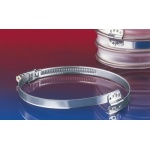 Materjal: W2 roostevaba teras
Pingutusvahemik: 115-135mm
Sobivus PU spiraalvoolikule sisemõõduga: 120-125mm
Klambrilint: 9mm
Sign up for an additional discount and the opportunity to see detailed inventory. Loyal customers are kindly asked to send an e-mail to info@optitrans.ee instead of registering so that we can make a user with your data.